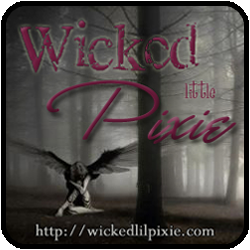 The Book Vixen is pleased to welcome Natasha from Wicked Little Pixie to the blog today.
When BV asked me to guest blog for her & tossed a topic my way, I knew right away which books HAD to go on my favorites of 2010 (so far) list. I've read way too many books this year, but these are the ten that have stuck with me through everything I've read.
In no order at all….
Downside Ghost Series - Stacia Kane
If you haven't already, you must read this series. It's honestly the best new series of 2010 and if I could have rated it higher then 5 stars, I would have. If I ever meet Stacia, I may drool a bit.
When I finished reading this book, I immediately emailed the publisher and asked for the next book. I never ever ask for books, but this one made me sink to that level of pathetic.
The Iron King - Julie Kagawa
One of the best YA books I have read this year, I actually tweeted Julie to say thank you for writing such a well written YA. Usually YA's talk down to children, but not Julie. Plus it has the Fae in it, I do love me a well written Fae novel.
You Dropped A Blonde On Me - Dakota Cassidy
I was lucky enough to read the ARC of Blonde, which isn't out until December. I'm sure most of you know I am a huge fan of Dakota's and Blonde didn't disappoint. Plus it's a contemp, not a single supernatural element but still worthy of belly laughs.
Personal Demons - Lisa Desrochers
I saw all sorts of talk on Twitter about Personal Demons and somehow managed to get my hands on an ARC. I am so happy I did, love love looooved it. Again, it's not out until mid-September but I'm already dying for book 2.
Black Dust Mambo – Adrian Phoenix
All I can say is WHOA! I haven't had a chance to type up my review for it, but it's one of those books that has you thinking about a week after you've read it. Plus, voodoo scares me worse then any vampire can.
Black Swan Rising – Lee Carroll
I devoured this book; I was up until 3am reading because I had to know what was going to happen. I'm telling you, you must read this book people. It'll have you sporting bags under your eyes, but it's so worth it.
This is the third book in Jennifer's series but for me it was the best of the bunch. By now you're already familiar with all the characters and the plot twists are so shocking…whoa.
The Mage In Black – Jaye Wells
Demon Fight Club. Need I say more? Jaye makes me giggle something fierce, so if you snort coffee out your nose, don't say I didn't warn you.
Without a doubt, the BEST YA of 2010. Such an emotional read, but something that should be written. All teens should have to read this book, it leaves such an impact.
So there you have it, my favorites of 2010 (so far). What have your favorites been? Am I missing something big?
Thanks BV for having me!
Where to find Natasha from Wicked Little Pixie online
blog | twitter | facebook | goodreads