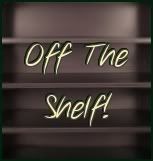 This challenge is to read those books you own copies of, but have never got around to reading. If you don't have many that you own, but have a massive TBR shelf you're welcome to read those ones as long as you don't add new ones. You don't need to actually get rid of your books after you've read them, this is just to read them.
How To Participate:
Decide which challenge level you'll be doing (further below) - do not include books that you buy from the start of this challenge.
Grab the code for the badge down below and post it on a side bar or in a signature.
Create your own post to let all your readers know you're taking part in the challenge and at what level (if you're really proficient you can list your books!). Make sure to link back to this page with either one of the buttons or a text link..
Sign up here to enter into the challenge by sharing your challenge post url and your name (either your name, blog name, or both).Please don't use the comment form to participate, only to comment on the challenge or something else..
Submit your reviews (if you choose to review them, but that is optional) on the review page.
When you've completed you're challenge let us know on the completion post. If you're using a tag or category I recommend sharing the link back to that so everyone can find them
Challenge Levels
Tempted–  Choose 5 books to read
Trying – Choose 15 books to read
Making A Dint – Choose 30 books to read
On A Roll – Choose 50 books to read
Flying Off – Choose 75 books to read
For extra hard challenges
Hoarder – Choose 76-125 books to read
Buried – Choose 126-200 books to read
OMG this is the perfect challenge for me! I have over 150 books on my TBR shelf, some of which have been there for over a year. I am going to try the Making a Dint level.
Here is my list of books for this challenge (links go to my review):
One Reckless Summer by Toni Blake
Just the Sexiest Man Alive by Julie James
Compromising Positions by Jenna Bayley-Burke
Practice Makes Perfect by Julie James
Backstage Pass by Olivia Cunning
Sugar Creek by Toni Blake
Free Falling by Sandy James
Shadowfever by Karen Marie Moning
Hex Hall by Rachel Hawkins
Deadly Fear by Cynthia Eden
Chasing Perfect by Susan Mallery
13 Little Blue Envelopes by Maureen Johnson
Moon Called by Patricia Briggs
Iron Kissed by Patricia Briggs
Crux by Moira Rogers
Anna and the French Kiss by Stephanie Perkins
A Present for Christmas by Shiloh Walker
Make Mine Midnight by Annmarie McKenna
Oh how I wanted to do so much better. I started off full steam and then I just tanked. I'm making it my mission to tackle my TBR pile in 2012! My TBR pile is now 400+!!