What's In a Name...Err...Title
There are writers who simply must have a suitable title before they can start working on a project.  I count myself fortunate that I'm not like that at all.  Titles rarely come to me until much later, sometimes never, and I just work on my stories without them.
So how do I keep track of untitled projects?  Easy.  I use the heroine names.  So for example, I initially called Carnal Secrets "Natalie" and The Last Slayer "Ashera".
As nice and convenient as that is, when you're about to pitch a book you have to have a title for it.  Calling it "some untitled manuscript" doesn't really work, since it might create the impression that you care so little about your own writing that you couldn't be bothered to come up with a decent name for the book.
The crappy thing is... I'm terrible when it comes to titles!
With The Last Slayer, thinking about it for a while I came up with a bunch of stuff like, "A Girl Who Liked to Kill Things", "All Incubi Are Bad", "Why You Shouldn't Kill Dragons" and so on for days.  Finally I decided that Ashera's transformation was the most important aspect of the story, so I should call it "The Metamorphosis".
And I was so happy and relieved that I had a title that I kept patting myself on the back...
...until I submitted a draft query to Evil Editor, who made horrible fun of the title.
Apparently, The Metamorphosis is one of Kafka's novels... one in which the hero transforms into a giant bug!  So Evil Editor said something that suggested that perhaps my book would feature the following plot line: "a giant cockroach wakes up after a lost weekend to discover it has been transformed into the Roman poet Ovid."
Ewww!
Anyway, I had to rethink the title, lest agents believe I was trying to single-handedly pioneer a new subgenre with were-roaches.
(Please don't worry!  There are no were-roaches in The Last Slayer!)
So after much much much angst and brainstorming, I managed to come up with the title The Last Slayer.  Carina's marketing department didn't suggest any changes, so I guess I did okay.  :-)
If you could retitle The Last Slayer after having read the blurb, what would it be? 
Fill out the Rafflecopter and leave a comment with your new title for a chance to win an e-copy of The Last Slayer (mobi, epub, pdf; open international).
---
ABOUT THE AUTHOR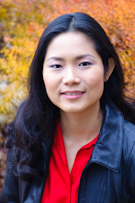 Bilingual former management consultant Nadia Lee has lived in four different countries and enjoyed many adventures and excellent food around the globe. In the last eight years, she has kissed stingrays, been bitten by a shark, ridden an elephant and petted tigers.
She shares an apartment overlooking a river and palm trees in Japan with her husband, baby boy, winter white hamsters and an ever-widening pile of books. When she's not writing, she can be found digging through old Asian historical texts or planning another trip.
Find the author online: website | blog
---
ABOUT THE BOOK
Ashera del Cid is a talented demon hunter, but when she kills a demigod's pet dragon, the hunter becomes the hunted. Her only potential ally is Ramiel, a sexy-as-hell demon. Now the two must work together to battle dragons and demigods...and the chemistry crackling between them.

Ramiel has his own reasons for offering Ashera his protection. He knows her true identity and the real reason the demigods want her dead. What he can't predict is how she'll react when she discovers he knew who she was all along...

Ashera is shocked to discover that she is the only daughter of the last slayer. To claim her destiny, she and Ramiel must join forces to face down danger and outwit their enemies. Only then will she be able to truly accept her legacy...
---
**GIVEAWAY**
Thanks to Nadia Lee, one lucky winner will receive an ebook copy of The Last Slayer!! Giveaway open Internationally. Fill out the Rafflecopter form AND answer Nadia's question to enter. Giveaway ends January 18th, 2012. Please read Terms & Conditions at the bottom of the Rafflecopter form before entering. Good luck to all who enter!
a Rafflecopter giveaway